Equip's New Research Shows Virtual Treatment Works for Eating Disorders – Here's What We Now Know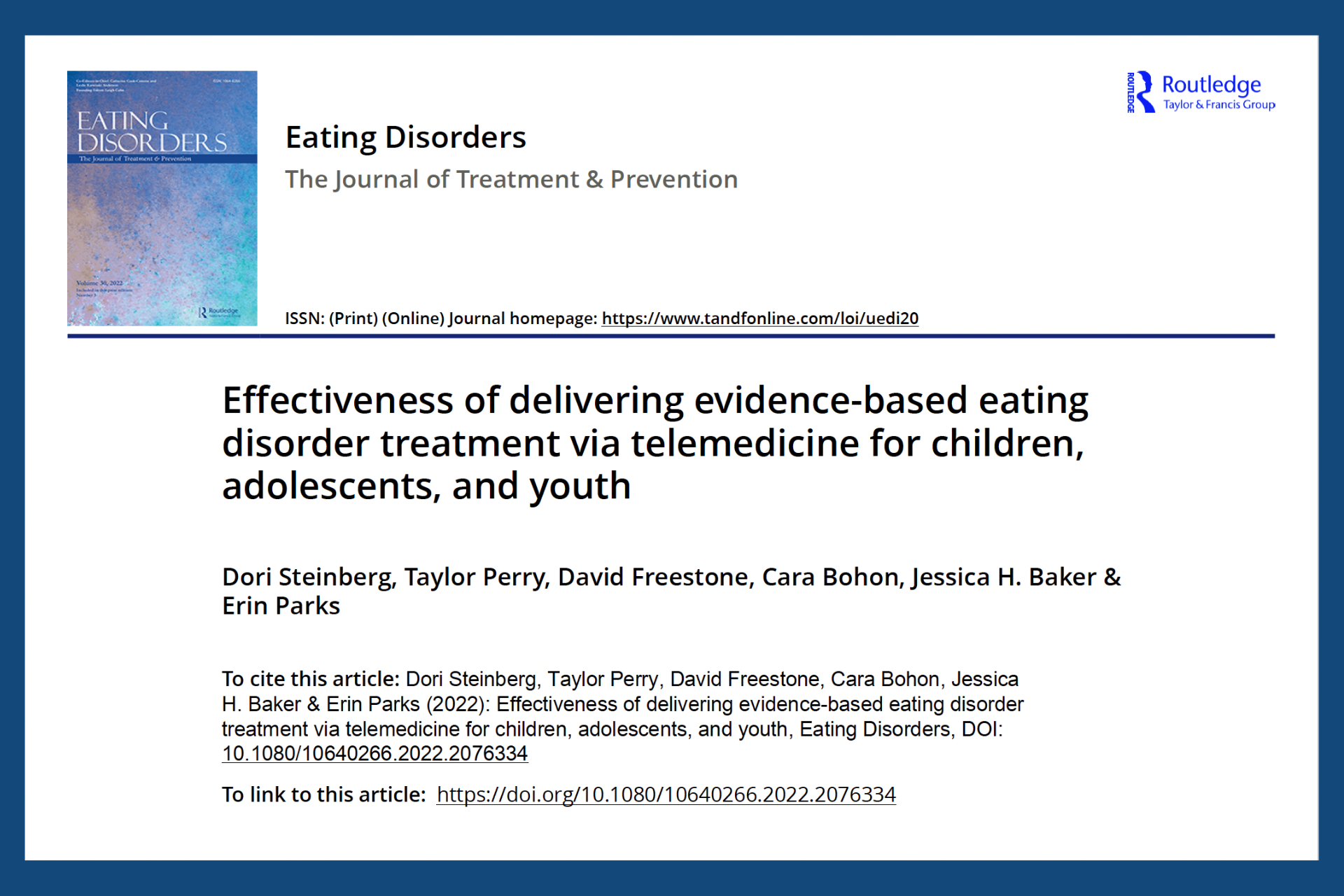 Prior to the pandemic, . For eating disorder treatment, most families traditionally turned to residential centers or upending routines for in-person appointments. With getting treatment for eating disorders (and a fraction reaching recovery), there's no longer a question of access, but rather a question of closing the massive access gap.
This week, we've made a huge stride in answering that question with our newly published research article, ".
The headline: not only does virtual eating disorder treatment work, it works just as effectively than traditional treatment.
Equip's clinicians and researchers Dori Steinberg ( VP of Research), Taylor Perry (Research Intern), David Freestone (Data Scientist), Cara Bohon (VP of Clinical Programs), Jessica Baker (Senior Research Manager), and Erin Parks (Co-Founder & CCO) found our virtual Family-Based Treatment model clearly delivers positive patient outcomes to help bring children & teenagers to recovery alongside their (chosen) family at home:
Average weight gain per week (for those who needed it) was 1 lb*
Patients' eating disorder symptoms were reduced by half*
Symptoms of depression and anxiety lessened by ⅓*
Family members felt more confident and a reduced burden in taking care of their loved one
*after 16 weeks of treatment
For those who might be interested in the clinical fine print, we've broken down each section of the research paper below.

What it Means:
Family-Based Treatment (FBT), for young people, empowers families to help their loved ones through recovery at home – traditionally with a therapist.
Equip's to include a dedicated five-person care team including a therapist, physician, dietitian, family mentor, and peer mentor.
---

What it means:
All study participants were Equip patients who were in treatment between September 2020 and August 2021
Individuals 6-24 years old with an eating disorder diagnosis who lived with a family member in CA, NY, TX, or NJ
More than half (63%) had a diagnosis of anorexia nervosa (restricting type), 14% had , and the rest spanned
83% identified as cis-gender female and 29% as BIPOC (13% Asian, 10% Latinx, 2% Black, and 1% Native American)
Most patients (83%) were also being treated for depression or anxiety
While this group of patients represents Equip's patients in our first year of treatment, we have since to treat more diverse populations – 50% of Equip patients currently identify as white and 19% as cis-male, trans, or non-binary.
---

What it Means
The research team track the following measurements of patients' and their family's physical, mental, and emotional health to evaluate the efficacy of our virtual FBT:
Weight restoration: Weekly weigh-ins for patients who had gain weight goals
Eating disorder symptoms: Eating disorder behaviors (e.g. restricting, purging, etc.) and thoughts (e.g. fear of gaining weight) as measured by the clinically validated (EDE-QS)
Caregiver burden: Family members' perception of their loved one's eating disorder having a negative impact on their emotional state or their daily lives measured through the (BAS).
While there is still so much work to be done in ensuring that all families have access to treatment that works, Dr. Steinberg believes that this study was a significant step towards transforming the eating disorder treatment landscape. "Many people think that when you deliver something virtually that there is a 'dilution effect' – meaning that it's not going to be as effective as in-person. And for some people that is true," explains Dr. Steinberg. "But the 200+ patients that we looked at in this study all saw clinically meaningful outcomes that are comparable to what they'd get in person."
---

What it means:
As the largest study to date assessing the effectiveness of virtual FBT treatment, our study confirms that families can successfully recover from an eating disorder at home. This is groundbreaking for the millions of families facing in accessing eating disorder care.
And yet, there is still much we do not know and are committed to discovering: how geography, ethnicity, race, and body size may impact families' experience with FBT, its impact on quality of life, and how we can best empower patients to build a life worth living beyond their eating disorder recovery.
As Equip continues to grow, our research team plans to dig even deeper into important questions like these – so that treatment can be safe and effective for all.
"It just gives me a lot of hope that there are new, innovative ways we can be providing treatment, and they are truly effective," says Steinberg.
About Equip
Equip is a virtual eating disorder treatment program helping families recover from eating disorders at home. Equip's holistic, data-driven, gold-standard care program is delivered by a team of five care professionals, giving families confidence they're providing the best opportunity for progress and lasting recovery.