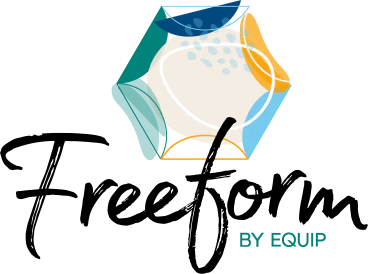 "How would your life change if your worth wasn't determined by your appearance?"
Get Started
Freeform by Equip is a four-week virtual program dedicated to challenging societal ideals and messages to help young people ages 13-24 feel empowered in their own body and appearance. The program is free of cost!
Key benefits
Freeform outcomes
FAQs about the Freeform program
Empowering young people
Freeform puts young people in charge of their personal body image journey and empowers them to make changes they want to see.
Focus on inclusivity
Sessions focus on the diverse experiences of folks of various genders, sexualities, body sizes, and abilities.
Rooted in research
Freeform was built upon decades of research and the psychological theory of cognitive dissonance.
98%
of participants say Freeform has helped them address body image concerns
3/4
of participants feel more positive about their body
9 in 10
would recommend Freeform to others
FAQs about Freeform Program
Is this program right for me or my loved one?
This is the right program for you if you have felt alone in your body image struggles and are curious about improving your relationship with your body while unlearning societal messaging.
What can I or my loved one expect from it?
A group of 6-8 peers (ages 13-24) who want to change their relationship with their body.
Four sessions, each 75 minutes, held weekly by trained group leaders.
Group discussions and activities for participants to support each other on the journey of breaking free from appearance ideals.
Exploration of how appearance ideals impact all of us, in similar and different ways based on our identities & experiences.
Our sessions are designed to empower, not educate. Freeform group sessions center the experiences, goals, and needs of participants — supporting them on their unique journey to discover a meaningful relationship with their body.
Freeform participants are finding hope...