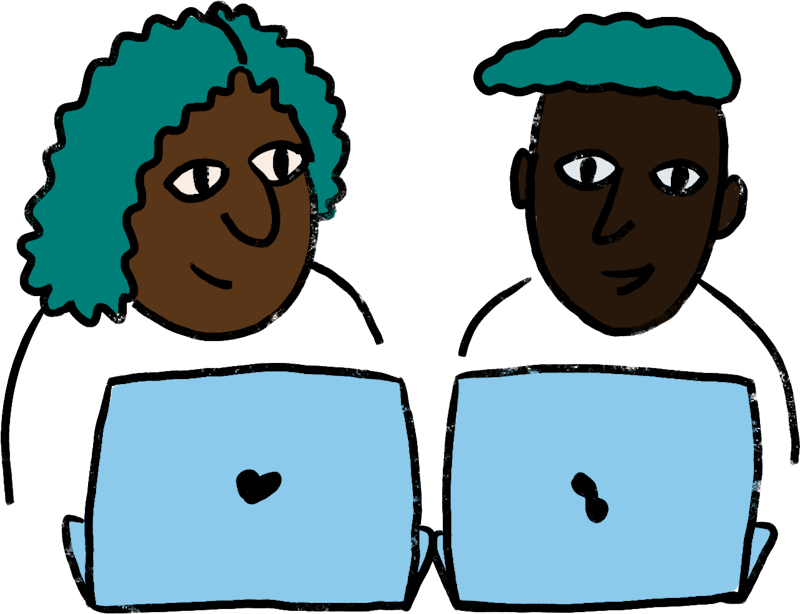 Eating Disorder Frequently Asked Questions
You're worried about your loved one, and are now in the difficult position of trying to find treatment that works, is affordable, and fits into your family's schedule. We've done our best to answers families' most frequent questions—we want you to be informed and confident in your choice. If you still have questions, please reach out to us at join@equip.health.
What treatment does Equip provide?
Equip provides Family-based treatment (FBT) delivered at home. FBT, which is based on the belief that families are best equipped to help their loved one through recovery, brings a patient's chosen family into their care. Equip's model of FBT includes a 5-person dedicated care team which includes a therapist, dietitian, medical provider (psychiatrist and/or pediatrician), peer mentor, and family mentor. We treat most eating disorders and co-occurring illnesses such as PTSD, anxiety, substance use, and mood disorders. Our medical services include monitoring medical stability and managing medications, dietary services include nutrition recommendations, support for meal planning, and reintroduction of feared foods, and therapeutic services include family & group therapy, and individual therapy when clinically indicated. Emotional and practical support includes peer and family mentorship, meal coaching, between-session messaging with all providers, and a team of clinicians that are all on the same page and dedicated to your family.
How do we know if virtual treatment works?
What types of eating disorders do you treat?
Equip provides treatment to people with anorexia, bulimia, binge eating disorder, ARFID, and atypical eating disorders. Eating disorders rarely occur in isolation, and many of our patients also struggle with anxiety, depression, substance use, and trauma. Equip treats all diagnoses, helping people to achieve full health and recovery.
Is there an age limit for Equip?
Right now, Equip is treating patients ages 6-24. Young adults must be living with parents/guardians when they start treatment with Equip. In the future, we intend to expand treatment to all ages.
How can I cover the costs of Equip?
We are currently in-network with Cigna, Horizon, and Optum, and working on partnerships with several other commercial insurance plans. We are working to partner with government-funded plans including Tricare, Medicaid, and Medicare, with hopes to be formally covered by them in the near future. We also offer a private pay option for families that wish to start care with Equip before their plan is in-network.
What kind of treatment approach does Equip provide?
Equip's treatment builds upon the gold-standard of care for eating disorders, family-based treatment (FBT). FBT is the most effective evidence-based treatment for children, adolescents, and young adults with eating disorders. In FBT, the family is tasked with helping their loved one recover through planning, plating, and supervising meals. Even though research has shown that traditional FBT works more often than other treatments, at least 30% of people still need additional care to recover.
Equip Treatment has been described as "FBT+" or "Super-charged FBT." All of our providers are trained in FBT as a foundation, but there are many things that make Equip Treatment different than traditional FBT.
Traditional FBT is delivered by one person, typically a family therapist. Equip treatment is delivered by a 5-person care team.
Equip gives all patients a peer mentor (someone who has recovered from an eating disorder) and gives all families a family mentor (someone who has helped their loved one through an eating disorder). The mentors provide emotional support, enhance motivation, model and teach skills, and offer practical advice.
Lastly, Equip is clinically guided to fit your family. Your therapist, dietitian, medical provider, and mentors will work with you in a way that fits you and your family's needs. Virtual visits allow you to "bring your whole village" to treatment - including aunts and uncles, grandparents, etc.
What if I've tried FBT before and it hasn't worked?
Many of our Equip families have also done family-based treatment (FBT) before trying Equip and thought FBT wasn't a fit for their family. We've heard that they found Equip gave them the extra support they needed, including family and peer mentorship, dietary sessions, and skill building, for their child to finally recover.
Online treatment versus in-person treatment—which should I choose?
We started Equip one year before the emergence of COVID and were always built to be a 100% online treatment option because we believe that treatment should fit your family's schedule, instead of families rearranging their lives to fit treatment. In-person treatment can be great—and we've also heard from hundreds of families that it's nearly impossible to find a team of qualified eating disorder providers in their community. Many of our families have multiple caregivers: dads and moms, step-parents, aunts and uncles, neighbors, and best friends—all collaborating to help someone recover from an eating disorder. It's nearly impossible to coordinate the schedules of four adults to drive to an in-person appointment on a Tuesday at 2pm—but if you can join from your phone, it gets easier to bring that village together.
What are the benefits of keeping my child at home, versus sending them to a residential treatment facility?
Despite 30+ years of residential centers treating eating disorders, there's little to no data to suggest they provide sustained recovery. Our founder, who spoke from experience, said it best: when you leave your life to go to a residential facility, you start identifying with being a patient, instead of building a life you actually want to return to. Going to treatment is easy; getting better in the real world is the hard work of recovery. By providing flexible session frequency and between-session messaging, Equip is there after basketball practice, during school elections, before your theater tryouts, and in the middle of finals week. Keeping children and adolescents IN their lives helps them move out of their eating disorders.
Who are Equip providers and how are they trained?
Equip's providers are all employees who have been licensed as required by their states, trained by Equip, and receive weekly supervision and ongoing training with Equip. If you or someone you know is interested in being a provider with Equip, they can email us at jobs@equip.health!
We already have a therapist—can we just be given a peer mentor and a dietitian?
Every family at Equip gets assigned a full care team including a therapist, a dietitian, a medical provider, a peer mentor and a family mentor. These teams train together, meet weekly to discuss their patients, and deliver care together as a team. During the first four weeks, you meet with each provider on average once per week. Afterwards, you and your team will determine the frequency that you meet with providers (for example, some people see their therapist twice a week and their dietitian only twice a month). Decisions about session frequency are made collaboratively based on clinical needs. Tell your therapist about Equip (jobs@equip.health) to see if they'd like to join our team.
Why does Equip include family therapy? Can we skip family therapy and just have the other services?
Put simply—recovery is hard, and most patients are very conflicted about recovery. For some people, their eating disorder provides some comfort. For others, their brains have been wired for behaviors that support eating disorders (e.g., perfectionism)—and their brain doesn't have a switch they can just 'turn off'. Many eating disorder symptoms are actually symptoms of starvation—and so restoring nutrition ends up preceding wanting to renourish. Lastly, eating disorders are reinforced by some of the most destructive aspects of our society. These reasons, and many more, are why it takes a village to recover, and why family therapy is an important part of recovery.
Should my child do individual therapy or family therapy?
Equip thinks some people may need both! Equip's family therapy helps the entire family get on the same page to fight the eating disorder and prevent relapse. We focus on family therapy first because it has a stronger and faster effect than individual approaches, and we know that early response to treatment is a strong predictor of recovery. Once nutrition is improved with FBT, some patients will be provided with Equip's individual therapy as needed to teach patient skills and address other concerns. Additionally, all patients are provided a peer mentor who models recovery and offers motivation. Parents or other caregivers have their own sessions, without their child, to learn skills and be supported in the hard journey of helping their child recover.